BEST Custom Laser Cut Conformal Coating Masking Tape Using Customer - Supplied Drawings

The BEST custom-cutting of tape shapes for masking will save you time and money. BEST will cut out, on release liner-backed tape sheet, custom shapes of Katon Shercon 22-SH tape/adhesive. These shapes will then be "fit" onto either single sheet to mask a single board prior for conformal coating. The advantage of a sheet of custom tape masking shapes is that the coating technician can take note when all the tapes have been pulled off. This will help determine if all of the masked off areas of the PCB are protected. It is a way to help insure quality control for conformal coating masking for smaller lot sizes when die cutting is not economically viable. As an alternative, you can have a single custom shape or pattern fit onto a sheet without having to stock a multitude of sheets.
BEST custom TapeShapes™ are quickly and precisely cut sheets of Kapton(TM) Shercon 22-SH tape that are cut using a laser. This has the advantage of the cuts being processed quickly and accurately. After the receipt of your dimensions, BEST will send back a check plot indicating what the sheet of shapes will look like. After your approval, the tape sheets will be cut within 24 hours. Not only will they be shipped out quickly but the cuts will be acute to 0.001" insuring that the keep out areas are maintained.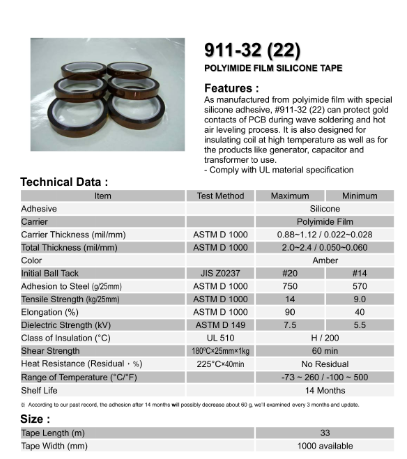 There are no silcones in this tape which could lead to dewetting.
INSTRUCTIONS-EXISTING ENGINEERING DRAWING
Customer files can be marked-up silk layer drawing GERBER, DXF , DWG or similar file formats.
BEST will send back a check plot for approval.
NOTE: Each of the sheets will have an 8 x 10" (Approx 203 x 254mm). (10) sheets worth of product will be supplied
Shipping within 24-48 hrs from check plot approval.